Words by: Abena Adu
All images shot by: Anselm E.
It's a rarity to come across an artist in the infancy of their career who has such a clear vision for how they would like their music and artistry to grow; this is something I noted when I spent the afternoon in London with rising Ghanaian star: Amaarae earlier this year. It was a warm February afternoon, about 20 degrees so I personally was feeling brave with the attire (and paid for it dearly later on, but I digress). As soon as I found out Amaarae would be in London, I made it my mission to get a shoot and interview set-up before she left.
Having been a fan of her music since the summer of 2017, it's been great to be a part of her musical journey so far, and watch her slowly but surely come into her own as the alt. RnB Queen she is. In that same year, she released her debut EP: Passionfruit Summers; here Amaarae was able to put her feelings into one cohesive project and allow her fans proximity to the inner workings of her mind. As she alludes to later in the interview, she's normally not so open with those closest to her so this something anyone listening to her music should cherish (even more).
Since then, she's featured on tracks with rising Alté Cruise artists: Santi (Rapid Fire) and Odunsi (The Engine) (Hectic) and has the ability to make each of her guest appearances memorable; something she also touches on later in our chat.
Having started her roots in music as a sound engineer, Amaarae appreciates the sonics of a track more than most singer-songwriters out there. This is probably why she was called on by London-based artist Kojey Radical to come to the UK in the first place to be part of a writer's camp for his forthcoming project.
——————————————-
Known for her eye-catching multi-coloured hair and on-point style, it wasn't hard to spot Amaarae as myself and Anselm (Portrait of Britain 2018 winner), made our way up to her at the entrance of Spitalfield's. Armed with three passionfruit bubble teas, we launched straight into it and this is when I was able to see Amaarae in action in front of a camera; she's a true natural — her instagram should have been a sign of things to come but I was really not ready for the #looks. During the shoot, we walked around the outskirts of the market, before making our way in to peruse the wares of various vendors. From jewellery to bags and everything in-between. Amaarae's eyes caught that of eyeware store — Dr. Retrospex where she picked up a few bits including this pair. Last stop was a store which had eccentric jewellery including heart-shaped necklaces (in the shape of an actual human heart) as well as skulls — one of which Amaarae ended up using to create her own necklace after our meet-up.
I was so happy to have caught up with her for a shoot in London's Shoreditch (aka Hipsterville) and have a chat with her afterwards for WFA. Have a read of our convo below and get involved with Amaarae's music.
Who is Amaarae, the artist?
I think I would describe myself as ever-evolving. So I can't necessarily tag descriptive words or adjectives onto [my sound] just yet; because, I think what I sound like now is going to change drastically over the next year. In terms of how my sound is developing, how I'm trying to move myself forward as an artist.
You grew up between Atlanta, Georgia (USA) and Accra, Ghana — how have these two places influenced your artistry?
I've been back and forth between the two places. I grew up in Ghana till I was 8, moved to Atlanta until I was 11, lived in New Jersey from 11-14, moved back to Ghana from 14-19 and then I went to college in Atlanta. But I feel as far as formative years and how these two places (Accra and Atlanta) have influenced my sound, I've only grown up around rap music, because my uncles loved rap. I [did also] have an uncle who loved alternative rock so I started listening to alternative rock bands when I was 7. That was the peak of me being like "Oh these are interesting sounds, they make me feel something and I enjoy them."
Fast forward to when I moved to Atlanta and Atlanta (in '03) started to have the rise of the "Trap Era". This was early Trap so Gucci Mane, Young Jeezy, OJ The Juice Man, Shawty Redd, Crime Mob, Dem Franchize Boyz and that was such a huge influence for me. Southerners don't rap on time, they rap in pockets. And the way that they write, they never say anything straight-forward. There's always this twist to what they say. Like: one time Gucci Mane made a reference to Sinéad O'Connor and I'm like "How the fuck does Gucci Mane know who Sinéad O'Connor is?" Or how Young Thug will say "I got all black chains on me like a goatee" like that to me is fucking brilliant.
But I think for me, what living in Atlanta did was it taught me how to think about music in a very fluid way. I, as a singer, write and think more as a rapper and I sing what I happen to write. I think that Southerners are very poetic and they never want to approach an instrumental or a thought or idea in a conventional way. It's always finding ways around and finding pockets that they could fall in. So I think that's what that did for me. And it just gave me an ear for interesting sounds. Southern rappers are very much experimental in their fusion of other sounds in their music. OutKast and Goodie Mob are good examples of that.
[In terms of what Ghana did for me] People underestimate how much music Africans listen to, like how well-versed in music Africans are. I think that Africans (or Ghanaians), as far as I know, know way more about rap music than your average American. For me growing up in Ghana, it was an event. I remember I was in my room (I was living with my Grandpa at the time as my Mom was working in the States) and my Aunts came in and said "Oh, Jay-Z's new video is on" ; that was "Izzo" and I remember those moments. People were super pressed on MTV because they wanted to be up on everything that was cool. And magazines too. I don't think there is an edition of VIBE magazine after 1997 that I haven't read.
"I think what I sound like now is going to change drastically over the next year."

That's interesting because your fans do know you as a singer but you do kind of half-sing, half-rap at times. I want to know, when did you realise you could sing?
You know what, it's interesting that we're in the 10 year anniversary of So Far Gone. When that album came out I really loved how Drake sounded so I googled what his process was i.e. what kind of software was he using. He was using Melodyne and Autotune. Hearing Drake sing and knowing that he wasn't a great singer per se but could still sound good, I was like "oh I can do that." Like literally, that was it. That was the beginning of me singing, honestly. Because before that nobody who wasn't a great singer, was singing. Back then it was RnB singers and they could really sing. So I was like okay let's do it.
Earlier while we were shooting, you spoke about interning as a sound engineer while at college — how has this helped you when creating music as a singer-songwriter?
I think understanding the technical [side of things] has been my blessing and curse because I know exactly what I want as far as sonics, but then because I know where the boundaries lie, I'm always trying to push outside of them.
That is challenging but I think that it's healthy because honestly, my voice is the last thing I think about when making music. I care most about the production. The first thing I think about is: how can I make these beats or instrumentals super immersive? Then the second thing is writing, like how do I write this so that it's experiential?
One of my favourite writers in this day and age is Frank Ocean — in terms of how he twists and turns; and how he can make the most mundane thing sound (mundane but also) enchanting. I think he was one of my first influences for the way that I write. People tell me I have a unique tone to my voice and I try to use that to my advantage but I'm not trying to be the best singer in the world, I'm trying to be the best artist. For me that involves the whole experience; my voice for me is just a tool within this musical experience.
Now I want to delve a little bit into your 2017 release: Passionfruit Summers. How did the idea come together for that EP?
It's so cliché, but honestly it started with a heartbreak. I just needed to write it out and say what I had to say. Most of those songs are from pure and painful experiences. But as far as producing and working on it, it just started with me in my college dorm sampling songs, making ideas, writing over samples and writing songs. Then I'd take it to a certain point where I'd do a little bit of drum programming and then once I knew I wanted to develop a song further, I'd take it to a producer with more knowledge than I had; or maybe I'd take it to someone who played instruments who could take a sample and break it down and then I could just take things out and rearrange it. But yeah that was like 2 years of me being a college student in my dorm just alone with my thoughts, actually grappling with this serious break-up and I thought I was dying.
Do you think as an artist that it can be difficult to share that much of a personal experience with the world? Or do you feel like "you know what, I need to get it out of me, let me just put it into music".
You know, I find it very interesting. I'm not a very open person. A lot of people who are very close to me are surprised that my voice caters to this vulnerability and sensitivity — that's not me as a person. I think my music is a learning curve where if you really want to know what's happening to me that's where you'll find out.
Now, I want read out a few quotes from your songs and chat a bit more about them.
In "Sundays" you say: "I don't need your stress unless you plan to put mine at ease."
In "Happy Mistakes" you say: "Though you're my other half, I want all of you."
With these these quotes, who is your music for i.e. Are you writing with the listener in mind?
[It's for] whoever needs to hear it because honestly I'm just saying how I feel. But I think that's one of my favourite lines "Though you're my other half, I want all of you." When I wrote that, I was like oh shit, where did that come from?
Okay, I want to talk about Fluid (you must have known this question was coming). The aesthetics for that are gorgeous and it's currently at around 100,000 views on Youtube. How did the idea for that come about and are you happy with the result?
Yeah I love Fluid! I love the video but that was actually the second video we shot. We shot the first video and my Mom was like "I don't think it's good enough." We spent a week planning that one. She saw that initial video on a Monday and she said "I need a new video by Thursday." One of my co-managers shot it. And we were like what are we going do. So he was like "We'll put you in a tub, have different colours and just focus on your face and keep it moving." [The timeline was so short because I had to fly to LA to shoot a video for Happy Mistakes and Hawaii].

"Your soundcloud has held me hostage… I can't leave your profile… you got it all, it's just a matter of time." — this is a quote left underneath a youtube video of you performing Catching A Wav with your band. How does it feel knowing people are reacting so positively to your music?
I try to use it as a source of hope for myself to keep going. I like that people seem to like it but I still feel like I haven't done enough, I haven't even scratched the surface. I want for the people that have found me super early to be like — this was a gem that I knew was gonna be big and I got to see that growth. I want to bring my listeners on that journey. I want for them to form that relationship with my art where they feel as much a part of it as I do.
Being an African artist: How do you feel the narrative, of creativity in Africa, is currently being changed by artists such as yourself, Santi, Odunsi (The Engine) and others?
I think what we're doing is we are elevating and then expanding in terms of what Africans do and what the world thinks Africans can do with sonics in music and just how bold we are to do other things outside music; what we know and how much we're willing to experiment and push forward you know. I think for artists like myself and other artists who are doing something similar to me, the main thing everybody has said is that "your music is not mainstream for Africans; they're not gonna get it". And as much as that irritates me, I think that puts more pressure on me and it's now my duty to expand myself.
My focus now in terms of listenership is on the kids who are going to local schools and don't have the exposure or don't know much outside their world; I really want to get that material out to them. I need for them to understand that there is a world, there is imagination and there is also somebody who is from where you're from and is doing this. I remember when I first dyed my hair blond, I face-timed my Mom the day before my flight to Ghana and she said "you're not coming here with that" and I just laughed. Eventually it grew on people. So I left [Ghana] and came back again and saw dudes starting to dye their hair blond. So after that, I started experimenting with colours and [one time] a friend of mine was supposed to dye my hair blond but she accidentally dyed it bubblegum pink; from there I did purples and blues and continued to switch it up.
You just spoke about some of the negativity surrounding your sound told to you by others. What's been your biggest learning experience about being in the industry?
Nobody owes you anything. It's really up to you to make the best out of situations. Just because you want a feature from X person or want to meet X person, you're not entitled to it. Earn your way to that. What I also realised is, you never want to chase people or chase things, you want to grow yourself and your art in such a way that people come searching for you. For me, one thing that is always my main focus is anytime I work with anybody (else) on a record, just to be distinct in the space that I occupy on the record so that when you think about wanting something different on a record, someone who is going to bring a certain uniqueness or quality, the first person to come to mind is Amaarae. No matter what genre or how outrageous you think it is. I wanna be that artist for Africa.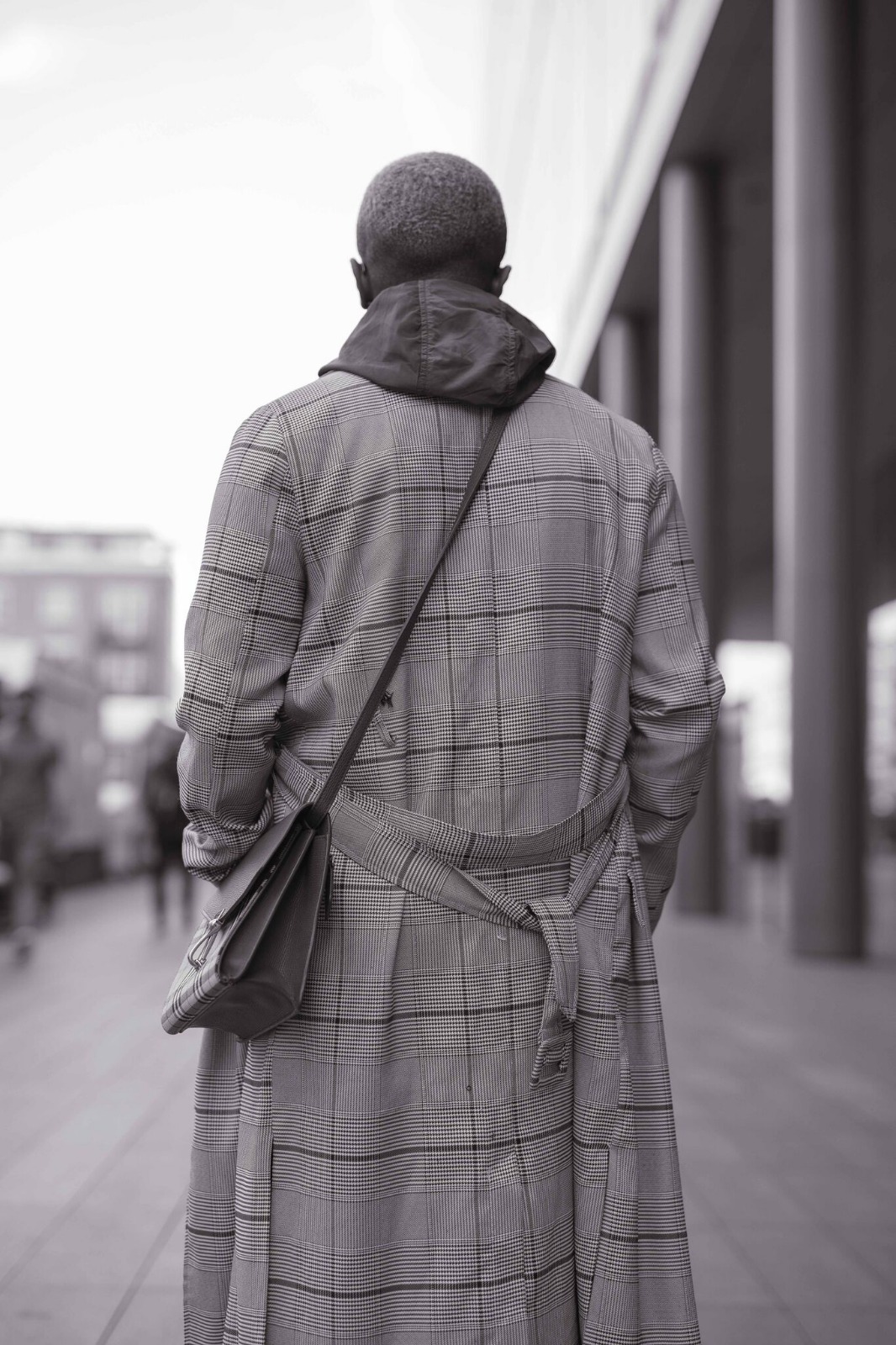 "I'm not trying to be the best singer in the world, I'm trying to be the best artist."
Now onto performing, COLORS is the biggest Youtube channel to rise up in the last couple of years, if you did a COLORS show, what song would you perform and what color would you like as a background?
I think about that all the time, I really want to do a COLORS. I have my outfit planned too actually but I haven't thought of the song. I know I want my color to be a nice golden-yellow, super dreamy and I'd wear an orange and yellow plaid suit; I'd probably also do my hair like a fire-y orange.
Now, I know you've been in the UK for a writing camp, can you share any info about this?
Yeah sure, so I was called in to bring a perspective that I don't think was present. Kojey [Radical] is mainly a rapper and a poet and for me being involved, it was more of how do you see this evolving melodically? So I was working on building and creating melodies, writing songs etc. I'm on one song and the rest I wrote for other people which I was really excited about because that gave me an opportunity to write outside of myself. I was writing in keys and notes I know in my life I would never hit. I was just excited that someone would sing it and bring those words to life. I wrote with Maverick Sabre, we did 3 songs throughout — I hope I get to work with him again. He'd hum something and I'd be like wait do that again and just put words to it; it was an amazing back and forth. It was also great to see how everyone involved was so ready to contribute themselves to it. So I'm really excited for the project.
Are you looking to release new music this year?
Yeah absolutely. I think I am in a dilemma right now. People really want me to put out new material and I'm more of a projects' artist than a singles' artist. So I'm not going to release a project until I know that it is fire and that it shows growth from Passionfruit Summers. So I probably want to do 2 or 3 singles over the year so that gives me an entire year to work on my project.
Okay last question, how do you define success?
I think people take for granted, how much of themselves artists give to audiences. Because when you first start out, you're on the path of building a fanbase so you're consistently proving to people that I'm that person. And the thing is that, with artists who really push through and chase that goal of being a phenomenal artist, it's something that's inbred, you can't find it.
People think we can help it, some of us can. Some people don't really care about being an artist (it's more so about the money or the fame). So the artists that are born to do it, it's something that's in you that constantly gnaws at you, so even in your worst moments when you want to quit, you don't because you just can't let it go.
I think that success for an artist is being able to earn your worth. Earn what you put into your work and being able to make it make sense for you. There are very few artists who are able to get out of their music what they put in and I think that will be success for me. When a person places value on something so much so that they take money out of their monthly salary or savings and say: this is an artist I'm going to support, that patronage is a big big thing and we don't take that for granted. Then I know that purpose means so much to the world that they feel like a purchase makes sense for them; not for monetary reasons but because it's of value.
Amaarae is due to release some new music this month so check out her socials to 👀